Hopes & Roses…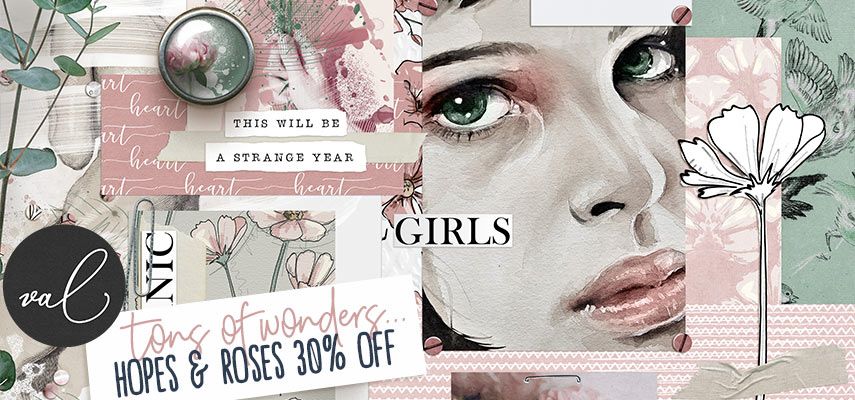 Really, what is life trying to tell us? I can't stop to think about. Is it really happening? I am locked in since 15 days so far. I have experienced a variety of different states of mind: the panic, the hysteria, the boringness , the fear , the willing to fight , the defeat. Then again , the strenght to arise again , finding new hopes . But I fell down once more time , miserably. I constantly fall down and rise up again. And I can't avoid to ask when I will be tired to try? when I will give up? it's tragic. The situation is getting worst and nobody is able to explain us why , how. The only piece of peace of my daily life is when I scrap. Among these colors, these virtual piece of papers. Even if they're digital sometimes I seem to breath the smell of glue and paper. When I'm here lost into my digital art I feel like I have stopped the world outside, like if nobody is dying or suffering at all. Then I turn on the Tv and that woman starts the count. Today 740 people died. The worst and unhuman thing is that they die alone. Someone called them "anonymous dying souls". They have nobody to say the last goodbye. It's seriously and enormously sad, the saddest thing of all this disastre.
I'm sorry if I'm not able to say more joyful words today. But I hope you will be able to shut down the world outside like me when you scrap.
Today I want to introduce you this new collection, called "Hopes and Roses". When I had the vision of this project I thought that I couldn't lose the faith. I needed pink, white, green, the colors of roses. Something fresh, spring-ish, able to evoc the life, the birth. And yes, that's the purpose, I want to celebrate the life and don't be defeat by the soreness. We must do it, especially in honor of all those who left this world for ever.